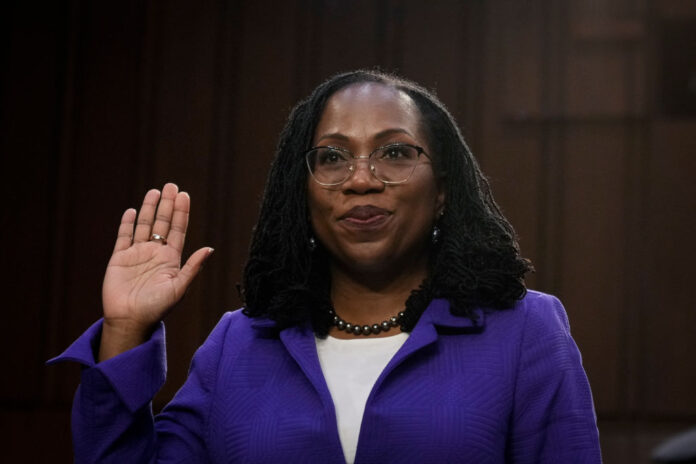 By Sarah Wall
Last week, Judge Ketanji Brown Jackson was confirmed to serve on the United States Supreme Court by a vote of 53-47. Judge Jackson will be the first Black woman to serve as a Supreme Court Justice, and while this makes her confirmation a unique moment in U.S. history, Judge Jackson's career trajectory also provides some insights into how she may take on the position on the Supreme Court.
Judge Jackson was born in Washington, DC and raised by parents with careers in public education: her father was the chief attorney for the Miami-Dade County School Board, and her mother was the principal at the nearby public magnet high school. After graduating from high school in 1988, Judge Jackson attended Harvard University, where she graduated magna cum laude with a degree government. After working at Time Magazine for a brief period, she returned to Harvard and received her law degree.

After graduating cum laude from law school, Judge Jackson clerked for judges on the U.S. District Court and the U.S. Court of Appeals before clerking for Supreme Court Justice Stephen Breyer, whom she will replace when he retires this summer.
In 2005, Judge Jackson became a federal public defender, making her the first Supreme Court Justice since Justice Thurgood Marshall, who served until 1991, to have direct experience defending people accused of criminal offenses. While Justices Sotomayor and Alito both have experience as prosecutors, Judge Jackson's experience in criminal defense will provide a different perspective on Supreme Court proceedings.
In 2009, President Obama nominated Judge Jackson to serve as vice-chair of the United States Sentencing Commission. As an independent, permanent agency within the judicial branch, the Sentencing Commission interprets and articulates the U.S. Federal Sentencing Guidelines. In the late 1980s and early 1990s, the "War on Drugs" that stemmed from the crack cocaine epidemic had resulted in harsh mandatory minimums promulgated by the Sentencing Commission, and Judge Jackson's uncle had been sentenced to life imprisonment in Florida for a nonviolent drug violation. When Judge Jackson served on the Commission some twenty years later, she helped reduce the guideline range for these nonviolent offenses, and President Obama commuted the sentence of her uncle.
In 2012, Judge Jackson was nominated to serve on the U.S. District Court for Washington, DC, where she served for seven years, a relatively long tenure for the position. In light of her confirmation to the Supreme Court, she will soon be one of only two justices, in addition to Justice Sotomayor, who have served as district judges rather than appellate judges. Some commentators have said this career path will set Judge Jackson apart because unlike the lengthy, philosophical opinions issued by many appellate judges, district judges often issue opinions more clearly and concisely in order to prevent their decisions from being reversed by higher courts.
In her acceptance speech, she cited her gratitude to God, to her family, and to the American people for her nomination and confirmation. Even those who disagree with her politically have voted to confirm her previous Senate nominations: former Speaker of the House Paul Ryan, who is related to Judge Jackson on her husband's side, said in 2012, "Our politics may differ, but my praise for Ketanji's intellect, for her character, for her integrity, it is unequivocal."
Judge Jackson will be the first Black woman to serve as a Supreme Court Justice when Justice Breyer retires this summer, but it is likely her experiences as a public defender and as a district court judge that will shape her position, opinions, and role on the Court.