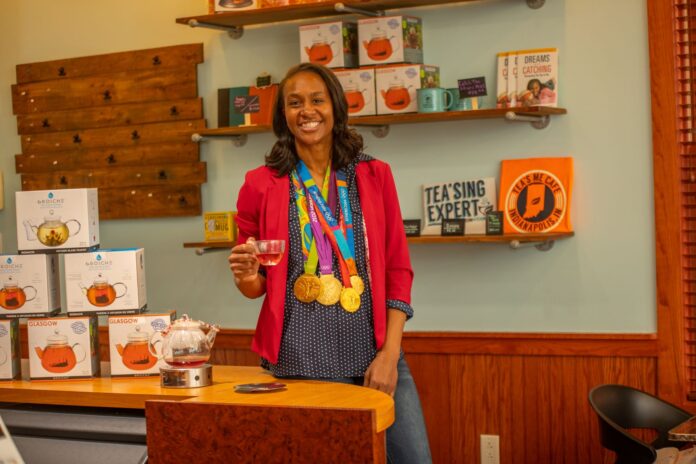 "When you find what you want to represent, and what represents you, you also find what brings you joy and peace. I'm blessed to have found that kind of success."
By Heather Pluard
Adversity sparked greatness in Tamika Catchings. With four Olympic Gold Medals, a 15-year reign as the 'Queen of the WNBA,' and recognition as a 'Best Human in Indianapolis,' Tamika says overcoming her hearing impairment helped her develop drive and determination from a young age. Today, she's the General Manager of the Indiana Fever and the proud owner of Tea's Me Cafe Indy. She's also written the book, Catch a Star: Shining Through Adversity to Become a Champion.
"Being born with a hearing disability is the biggest adversity I've had to overcome," Tamika says. "But it also gave me an extra drive to be great at something. My parents found out I was hearing impaired when I was three, while we were living in Europe and my dad was playing professional basketball. I started speech therapy and wore big-box hearing aids, which was tough. But I didn't realize I was different until we moved back to America when I was in second grade."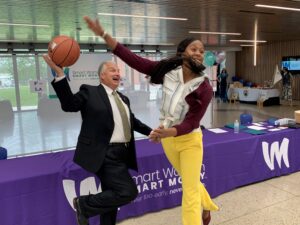 Readjusting to life in America was hard for Tamika. Since wearing hearing aids in school made her stand out, she threw them away. "I found ways to be successful without them," she says. "I learned how to read lips, which was really important. I would read chapters in textbooks before I went to class, hoping the teacher would cover what I read. Then I would stay after class to ask questions. We moved a lot when I was a kid, so eventually, most people didn't even know that I was hearing impaired."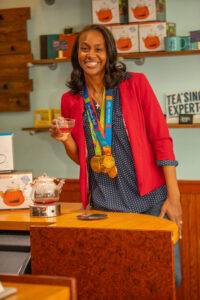 Her experience helped Tamika develop a tremendous work ethic and also led to her faith in sports. "People could get on me because I couldn't hear or speak as well as they could, but the one area I could control was practicing and getting good at whatever sport I was playing," she explains. "My first sport was soccer, and then softball. But by 7th grade, I knew I wanted to follow my dad's footsteps and be in the NBA. I wrote my goal down, and I focused on achieving that one goal every single day. Before school, I'd wake up early, dribble the basketball, get some shots up, come in and get ready to go. After school, I would do homework, have dinner, and finish every day with more basketball."
Sibling rivalry also played its part in honing Tamika's basketball skills. "I'm the baby of three, and we were all super competitive," she laughs. "We had driveway basketball games that ended in blood. My mom and dad would have to come out and shut it down. That's was just who we were. My internal drive to be great, not just in sports, but in the classroom, too – really helped."
Tamika's parents divorced when she was in 7th grade. She and her mom moved to Duncanville, Texas, for her last two years of high school. As a Senior, she played in the WBCA High School All-America Game and scored 12 points. After graduating, Tamika attended the University of Tennessee, where she played as a Freshman on what is considered one of the greatest teams in U.S. women's college basketball – the 1997/98 Tennessee Lady Volunteers. They were National Champions that year, and Tamika was an All-American all four years in college. She is the first player at any level in history to be officially credited with scoring a quintuple-double (25 points, 18 rebounds, 11 assists, 10 steals, and 10 blocks).
In her senior year of college, The Indiana Fever drafted Tamika to play for the team. Then Tamika tore her ACL. "Devastation is an understatement," she says. "I just thought you have to be kidding me. It's Martin Luther King Day. My goal to be in the WBNA is right here, I could reach out and touch it, and I go down. I had to power through with faith, work, and perseverance. When you're coming back from any injury, one day can be amazing, and you can have all these strides where you feel like you are on your way. The very next day, you could have a set-back. You need to wake up with mental strength and take it one day, one minute, one toe crunch at a time."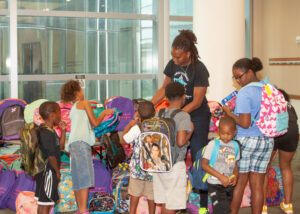 Fully recovered from her ACL injury in time for the Indiana Fever's 2002 season, Tamika became the WBNA's Rookie of the Year. She was also the fastest player to score 2000 career points, accomplishing that impressive feat in just four seasons of play. During her WNBA tenure, Tamika played for the USA Women's Basketball Team in the 2004, 2008, 2012, and 2016 Olympic Games, winning gold medals all four times. She retired from basketball in 2016 with multiple WNBA records and recognition as one of the best 20 players ever.
After her retirement as a player, Tamika became the General Manager for the Indiana Fever. This executive management experience prepared her well for following her next passion in life – owning Tea's Me Cafe Indy. Tamika loves tea, and it played an important role in her childhood. She has fond memories of her mom hosting spontaneous tea parties to bring the family together. When Tamika found out the owners of her favorite local tea cafe were going to close it, she talked to her husband, Parnell Smith, about buying it from them.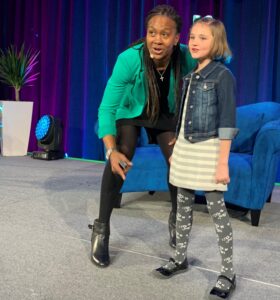 "While we were weighing our options, I dreamt about tea every single night for two weeks straight," Tamika says. "I took it as a sign. We ran the financials by my brother-in-law, a CPA, and we decided to buy it. I know it's not something that will ever make me rich, but Tea's Me Cafe Indy is a staple in our community, and I'm passionate about it. I came in with a team mindset, and I run it just like you would operate a professional sports team. Everybody cross-trains front and back, so they can play offense and defense. I know how to make a small team operate at its best."
"While we were weighing our options, I dreamt about tea every single night for two weeks straight."
One year after taking over the tea shop, Tamika decided to buy the whole building. She now has seven tenants in her mixed-use property, and she has excellent advice for anyone who's thinking about buying their first small business. "Write your goal down and follow up with a business plan," she says. "The plan is the most important part because you put steps in to play and see what you need to do before opening. Go through the process of taking ideas from others and adding your own twist. Make sure you have a clear understanding of the financials. If you don't, get educated. Then get to work and go!"
COVID-19 was not a part of Tamika's plan, but she turned the shutdown into an opportunity. "I wanted all the staff to be able to work without risking anyone coming inside the cafe," she explains. "So, we used it as a time to take care of projects, like reworking the menu, planning events, painting, reconfiguring the space, and coming up with new processes – including a pandemic document in case we ever go through this again. We got a lot accomplished!"
"We're focused on helping kids reach their full potential, and changing people's lives."
This month, the Women's Basketball Hall of Fame will induct Tamika into its 2020 class. With so many incredible accomplishments to choose from, Tamika is most proud of the foundation she started with her sister, Tauja. The Catch the Stars Foundation empowers youth to overcome adversity and achieve their dreams by providing goal-setting programs that promote fitness, literacy, and development. "We're focused on helping kids reach their full potential, and changing people's lives," Tamika says. "A lot of the kids in our program today don't even know I played basketball."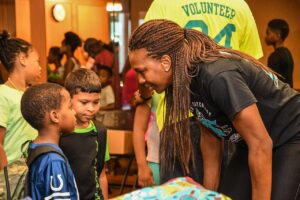 As the National Co-Chair for the Smart Women Smart Money Advisory Council, Tamika is frequently the conference's Keynote Speaker. She continuously inspires others with her stories of overcoming adversities to find great success. Interestingly, Tamika's definition of success is unique. To her, it's finding joy and peace in everything. "I have a lot going on, the foundation, my tea shop, and my role with the Indiana Fever," she says. "I'm a motivational speaker; I commentate for ESPN; I do a lot. But I've never worked a day in my life. I love every single thing that I do. You make time for the things that you want to make time for. When you find what you want to represent, and what represents you, you also find what brings you joy and peace. I'm blessed to have found that kind of success."