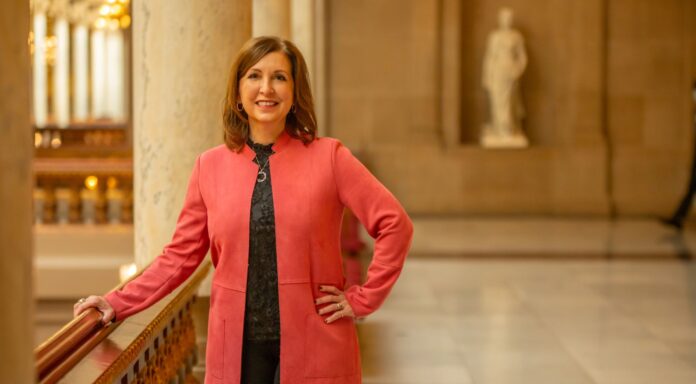 By Heather Pluard
At 29, Kelly Mitchell became the first woman elected commissioner in Cass County, Indiana, and the youngest commissioner in the state. But that's not surprising for someone who started her political career in high school! While still a teenager, Kelly's participation in the Model U.N. Club sparked a life-long interest in serving the greater good. Elected as the 55th Indiana State Treasurer in 2014, she is currently serving her second and final term due to constitutionally mandated term limits.
"As Treasurer, I am entrusted with so much, and I consider it a tremendous honor to uphold that trust," she says. "My integrity is the most important thing to me as a person and as a fiduciary to the state. So in my office, we make our decisions through the lens of the public's trust, and we always give our very best."

Since high school, Treasurer Mitchell has been operating under that philosophy, first serving as a page in the Illinois State Senate. Then, while attending Arizona State University, she also served as an intern for the late U.S. Senator John McCain. "I saw first-hand what it meant to be a responsible and responsive public servant," Treasurer Mitchell says. "But even though I earned my B.A. in political science, I returned to Indiana with no intention of running for office."
After a friend told Treasurer Mitchell she should run for Cass county Commissioner, she studied the position and realized she would enjoy it. Elected at 29, she served two terms and is proud of her positive impact on the community. "My life, like everyone's, has held many challenges," she says. "But with those challenges come support, love, deeper self-knowledge, new strength, and stronger resilience. Each challenge is truly an opportunity to grow, despite how difficult it can seem in the moment."
Now Treasurer Mitchell is proud to serve her state in an even more influential and impactful capacity. "What I do makes a difference, and that means so much to me," she says. "And it is a joy to work alongside my amazing team. Experiencing the pandemic together but in isolation drove us to be more deeply connected and made us stronger.  We are more caring about each other as people, and we prioritize one another's mental and physical health. That holistic way of looking at each other has made our work processes better yet, and we are aligned in our goal to give our very best to Indiana and its citizens."
Inspiration is everywhere for Treasurer Mitchell, but Dietrich Bonhoeffer tops the list. Her favorite quote of his is, 'In normal life, we hardly realize how much more we receive than we give, and life cannot be rich without such gratitude. It is so easy to overestimate the importance of our own achievements compared with what we owe to the help of others.'
"I have gotten to do this work I love because of the help and support of so many, so that quote resonates with me greatly," Treasurer Mitchell says. "I have been fortunate to have several mentors, and I can point to the differences they have made in my life. For example, because of the guidance of my Sunday School teachers in high school, I went to Valparaiso University and became the first college graduate in my family. Another mentor became my first campaign manager, helping me serve as commissioner in Cass County. I continue to be blessed by those I consider friends and mentors in my life, and I think it's important to pass that on. I work to mentor and encourage others, too, in great part because I see what a tremendous impact that support has had in my life.
"As such, Treasurer Mitchell has excellent advice for anyone trying to be more financially savvy. "Ask questions!" she says. "I find we don't ask questions because we think we should know the answers already, and we don't want to be embarrassed. But I guarantee you if you have a question, so do others. If you ask, we all learn. Financial literacy is a life-long journey. There will always be something more to learn!"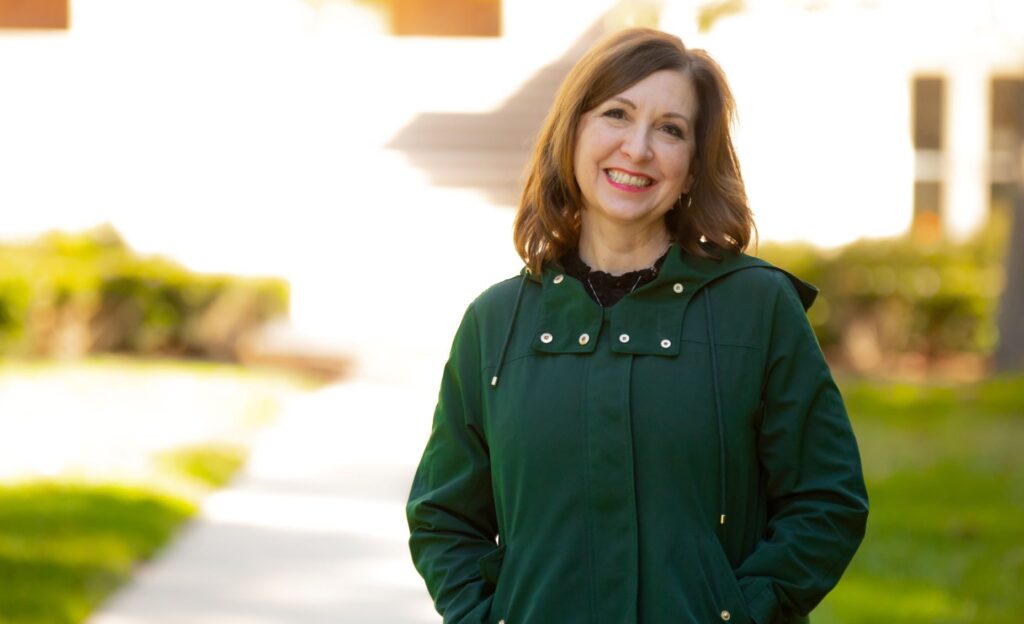 Recognizing Treasurer Mitchell as one of "America's emerging political stars," The Aspen Institute selected her as a Rodel Fellow. She gathered with other promising political leaders to study the underlying values and principles of American democracy. In 2016, then-governor Mike Pence awarded Treasurer Mitchell the Sagamore of the Wabash, a prestigious civilian award given at the governor's discretion. That same year, she also received the Trailblazer Award from the Indiana Commission for Women.
Not one to rest on her laurels, Treasurer Mitchell says she and her team still have a lot to do in these last months in office. Making the Indiana Education Scholarship Account Program best-in-class is on their 'to-do list. The program allows special needs students to use education savings accounts for private school tuition and associated expenses.
Recently, Treasurer Mitchell joined Team Rubicon, a nonprofit organization that deploys volunteers to disaster sites and to help with other events. "For instance, Indiana just welcomed 5,000 refugees from Afghanistan, and I volunteered at the base where they are temporarily housed," she says. "My husband, Larry, and I also sponsor children around the world through various organizations such as Invisible Girl and Freedom International Ministries."
Treasurer Mitchell and Larry have been married 17 years and have a blended family of two sons, a son-in-law, two daughters, and a daughter-in-law. They also have two granddaughters. "Right now, the only "children" at home are our two dogs, Sparrow and Fiver, and our orange cat, Pippen," the Treasurer says. "We are so blessed with our loving family!"
In her free time, Treasurer Mitchell does yoga daily. She has been a trained Hatha teacher since 2003 and still enjoys growing her knowledge of the practice. She also likes traveling, writing, reading, cooking, and baking. "It's fun to experiment and learn new things," she smiles. "If I've met the challenges of the day with openness and equanimity, I put it in the 'win' column. Of course, some days don't quite get there, but I reflect on each day at night and try to see what I can learn. Ultimately, if I am met at the pearly gates with "well done, thou good and faithful servant," I'll consider that success."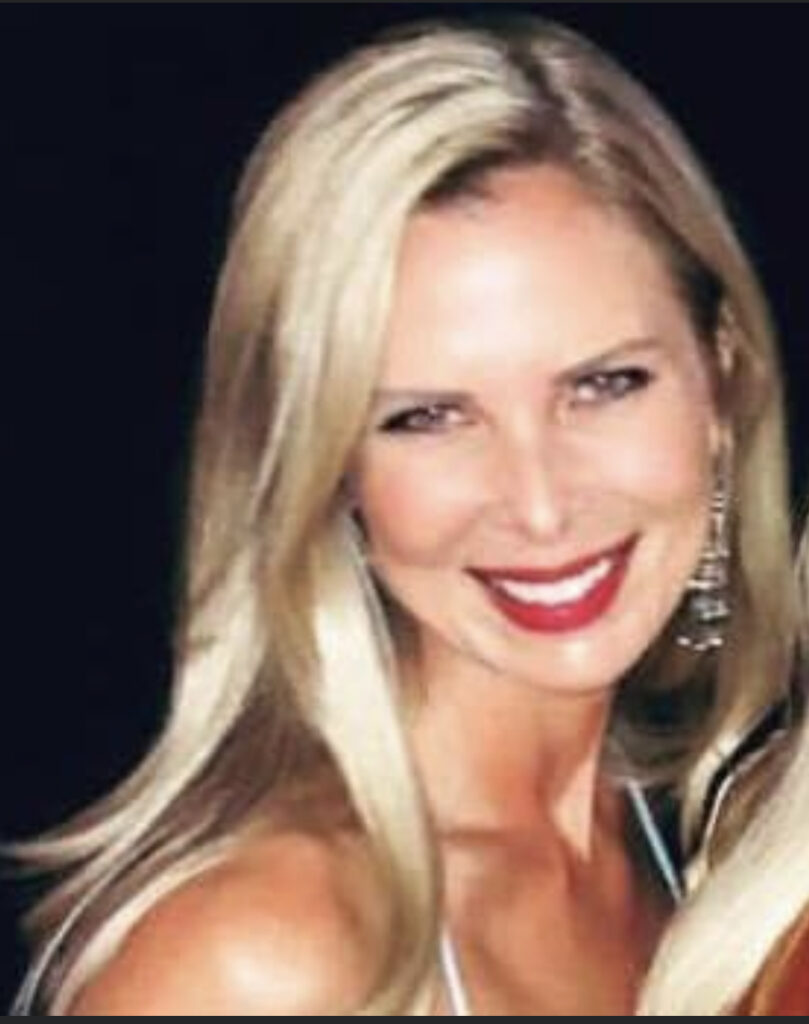 Heather Pluard is a contributing writer for Smart Women Smart Money Magazine. For questions or comments email [email protected].