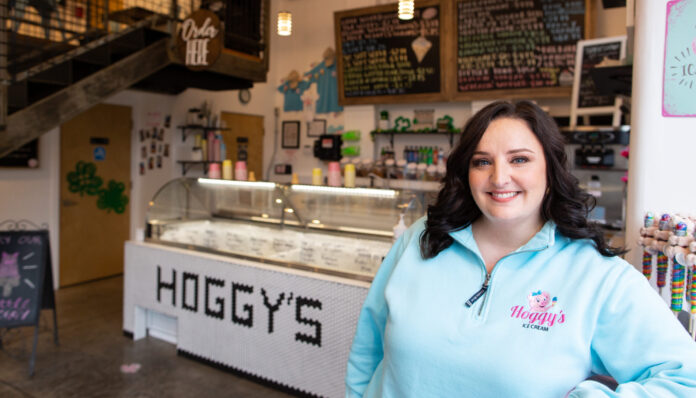 By Shannon Santschi
Photography by Jennie Paiva
At the corner of 3rd and Main in Frankfort, Kentucky, you will find perhaps the most darling ice cream shop east of the Mississippi. An aqua and pink theme brightens the walls and windows bringing fresh life to the vintage building. The shop's owner, Crissy Hogsten, has a soft southern accent and is only eclipsed in sweetness by the goods she sells.

The story of Hoggy's begins 30 years ago when Crissy was just a girl. "As a kid, I loved the smell of the ice cream shop in our city…We didn't have a lot so getting ice cream was a treat in my family. As a child I knew I wanted to have an ice cream shop one day."
But ice cream dreams quickly went up on the shelf once Crissy met her future husband, Kenny, at the age of 14. She says she knew he was "the one" right away. The couple got married six days after Crissy's 19th birthday. "Kenny is by far my biggest supporter and my best friend," she says.
Pretty soon, one, two, three babies arrived, then a fourth and fifth were added to the Hogsten home. "After we had three biological children, we decided to expand our family through adoption by way of foster care," Crissy explains. "There is a love [for my last two] that I can't explain," she says. "I looked at them the first time and knew they were meant to be ours. The process was far from easy, but it rarely is when it is something so good. We've definitely been blessed." The Hogsten children, Lexie, Casey, Faith, Emery, and Greyson range in age from 23 to 8. Although the dream was still a desire, her desire to devote her time to her kids was greater. Though it was a 20+ year commitment, she would not trade the experience of staying home with her kids for the world.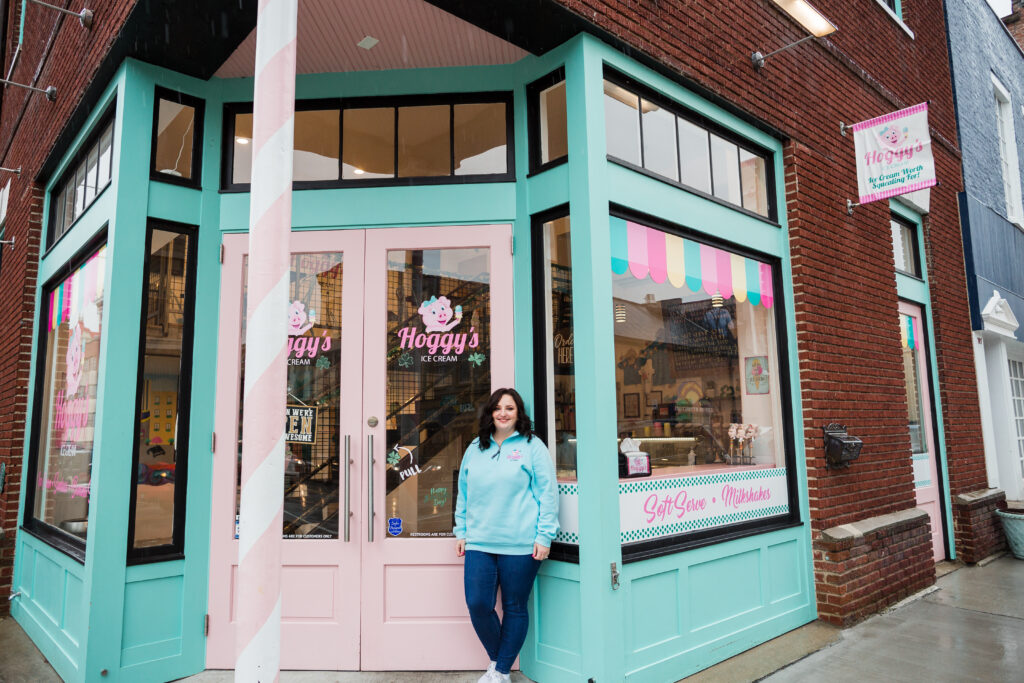 But as her last child, headed off to kindergarten, Crissy did feel more than a little excited about having time to herself for the first time in decades. "I thought, this is going to be great, I can do what I want!" But after just a few months of being kid-free, she was bored. "What am I going to do with the rest of my life?" she thought. That's when she remembered the dream she'd shelved years ago. She mentioned the idea of opening an ice cream parlor to her husband, and from the get-go he was supportive. "Downtown Frankfort could use it," he said.
Since she lacked business experience, Crissy threw herself into researching the industry and drafting a business plan. She thought her plan was solid, but the local Small Busines Administration (SBA) told her otherwise: "It's not going to work. You're too big of a risk. There's too much competition."
Pursuing the Dream Anyway
Although Crissy was ready to throw in the towel, Kenny was not. "My husband totally believed in me and had more faith in me than I did." He told Crissy they would finance the business themselves.
In mid-summer of 2018, they discovered the perfect spot in downtown Frankfort and began renovating it that November. To cut costs, Kenny did much of the labor himself. "Almost everything you see in my shop was done by my husband. He worked many late nights after getting off work from his [regular] job to make sure my shop was done on time," Crissy says. The dipping cabinet features some of Kenny's best work–a beautiful vintage-look penny tile.
In March of 2019, Crissy Hogsten's dream came to life. Hoggy's Ice Cream features twenty flavors and several piggy-themed treats. "The Boss Hog is probably our best-seller," Crissy muses. "It has three scoops of ice cream, hot fudge, and lots of Reece's and whipped cream. Boy, is it good!" she exclaims dreamily. All the recipes are Crissy-originals. The shop also makes their own cones.
Out of consideration for larger families like her own, Crissy decided to reduce her profit margin per sale so more people could afford to purchase treats. The risk appears to be paying off. "We were debt-free in 16 months," she boasts. Hogsten credits the money management skills she learned as a stay-at-home mom as a part of her success. "I managed our home finances, paid the bills, and knew how to stick to a budget."
An emphasis on customer service also boosts sales. Crissy tells potential hires, "We are the Chick-fil-A of ice cream. We treat people like family, here. We often know our customers' orders (before they ask) and we do whatever it takes to make their day better."
Her store's reputation for great ice cream and hometown friendliness have paid off in a big way. When the store shut down for a month due to coronavirus, like other small business owners, the Hogstens were nervous. Just before they opened up, Crissy put a notice on Facebook letting customers know they'd be selling pints and quarts curbside. "We opened up on a Friday and were sold out by Sunday," she says. The sales allowed Hogsten to continue to pay salaries and pay down debt. Sales are even stronger now that the city is reopening. "We've experienced lines out the door and around the building for most of the week," Crissy reports.
It's not all been happy times, though. Last year, both of Crissy's parents passed away within seven months of each other. When the shop closed for their funerals, customers reached out to Crissy, offering their condolences and prayers. "The support from the community was huge. It felt really good," she says.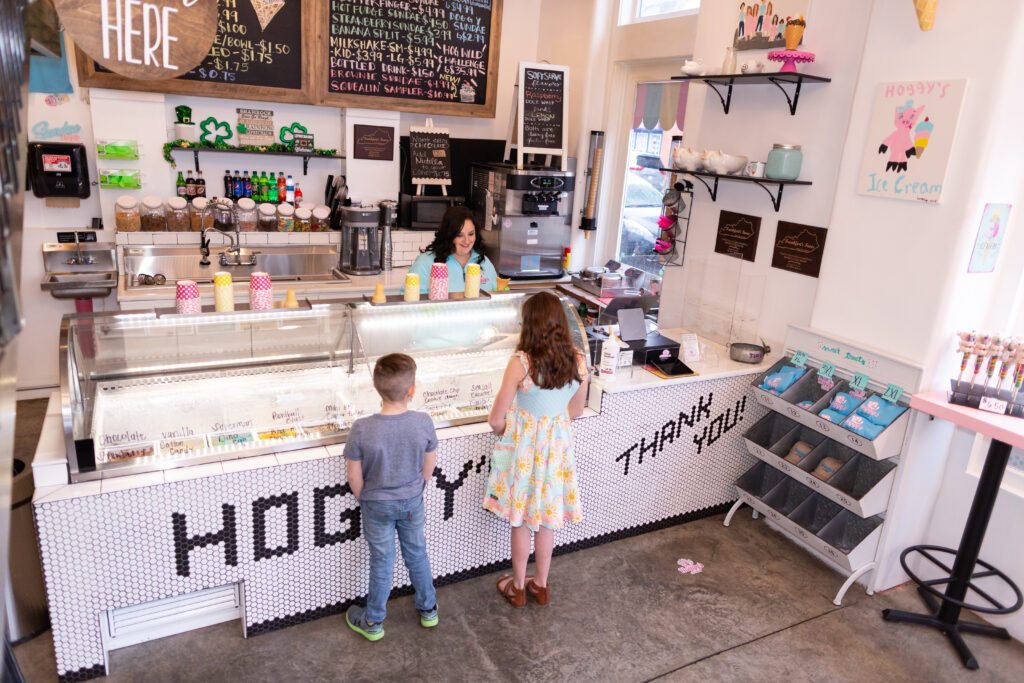 Faith over Fears
Opening Hoggy's was very much outside of Crissy's comfort zone and fear of failure seemed to always be present. During these times, Crissy would pray, asking God to bless Hoggy's to be a blessing to others. "The day before we opened, I told God this was His shop and to do with it what He wanted. God has shown up every day and continues to bless us beyond anything we could have imagined," she says.
In support of other moms and women who are considering starting their own business, Crissy offers this encouragement:
"I had no experience running a business, what equipment would be needed, how to manage employees, but what I've learned [from this experience] is that I am more capable than I'd given myself credit for…I think when you've stayed at home caring for your kids, it's especially easy to lose sight of yourself and forget who you are as an individual. We [women] tend to underestimate our abilities and ourselves, but I think we need to stop giving into the voice that says we aren't good enough, that our ideas won't work. Sometimes the greatest successes come when we let go of these notions and let go of that fear of failure. I think the world needs what women have to offer."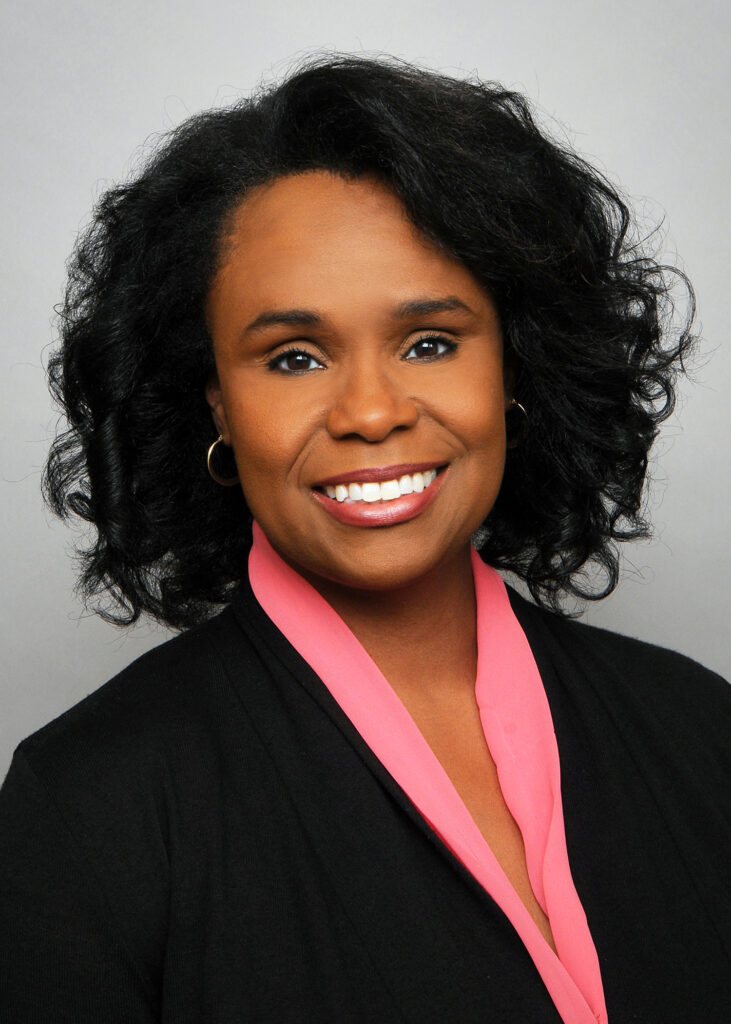 Shannon Santschi is a contributing writer for Smart Women Smart Money Magazine. Comments or questions can be sent to [email protected].