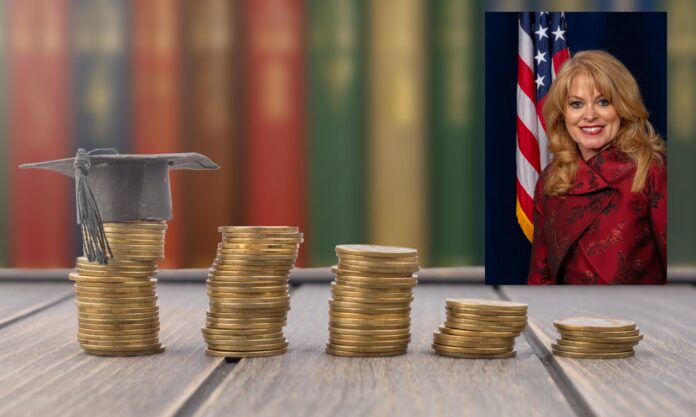 By Pennsylvania Treasurer Stacy Garrity
Spring is in the air, and the winter chill is finally on the way out. With the change in season, there's often a personal commitment to clean out the closets or get the yard in shape. As you dive into spring cleaning, I encourage you to consider dusting off your finances, too.
April is Financial Literacy Month. Everyone's financial situation is unique, but there are always new things to learn and ways to improve your financial wellness. Whether exploring investment options or organizing your records, every step forward gets you on better financial footing — and the Pennsylvania Treasury is a great resource.

As State Treasurer, I'm always eager to tell people about our tremendous consumer programs, like the PA 529 College and Career Savings Program, Keystone Scholars, PA ABLE, and our unclaimed property program.
If your financial future includes wondering how you will afford your child's post-secondary education, our PA 529 program is a great option to check out. It's a tried-and-true program, with 30 years under its belt, helping families save. 529 accounts are powerful tools with big tax benefits. It's important to research 529 plans before investing, as each state's 529 programs may offer different benefits for your family.
The best part is that 529 accounts are so flexible. They're not just for four-year college degrees. Families can use 529 savings to help pay for tuition, fees, books, and more at technical schools, community colleges, and even apprenticeships.
And we have a bonus for new parents in Pennsylvania: our Keystone Scholars program already has $100 invested for your child (born on or after January 1, 2019) to get your savings started! Research shows that children with even a modest amount of savings for education are three times as likely to enroll in and four times as likely to graduate from a two- or four-year college.
For Americans with disabilities, saving money used to mean losing access to important Supplemental Security Income or Medical Assistance benefits. But today, with access to ABLE programs like our PA ABLE, saving and financial independence are a real possibility. ABLE accounts, like 529s, offer great tax advantages when account owners save for disability-related expenses — from day-to-day necessities to long-term savings goals — without affecting the benefits, they rely on. PA ABLE is celebrating its 5th anniversary this month, and so far, more than 6,000 Pennsylvanians have already saved nearly $70 million, making it one of the largest programs in the country. Learn more at paable.gov.
If these savings programs aren't for you, don't worry because an unclaimed property is sure to pique your interest. One in ten Pennsylvanians is owed some of the $4 billion (yes, you read that right: "billion" with a "b") in unclaimed property that the Pennsylvania Treasury is trying to return.
Anyone can search our database online anytime for themselves or family and friends to see if there is a property waiting. It could be money from an old bank account, an uncashed check, or the contents of a long-forgotten safe deposit box. Visit patreasury.gov/unclaimed-property to search — but in the true spirit of spring cleaning, also take a moment to organize your financial records and touch base with your banks and financial institutions, so your money doesn't become "unclaimed" and end up at Treasury in the future. Every state has its own unclaimed property program, and you can find out how to search yours at unclaimed.org/search.
A part of our unclaimed property program is actually my favorite part of my job as state Treasurer: Returning military decorations to the heroes who earned them or their families. We're protecting hundreds of military decorations and memorabilia, including Purple Hearts and Bronze Stars, inside our vault.
And we're constantly working to find the rightful owners because every military decoration that finds its way to our vault is a piece of someone's story and a symbol of the selfless sacrifice made by them and their family for all of us. It's a true honor to return these decorations and let my fellow veterans and their families know how much we respect and appreciate their service to our country.
Those are all fantastic programs, but we're working to add one more to the list: Keystone Saves. Right now, people across the country aren't saving enough for retirement. Here in the Keystone State, more than 2 million hardworking Pennsylvanians don't have access to retirement savings plans through their jobs – that's 44% of our state's private-sector workforce.
This lack of access has long-term impacts on both their personal lives and the well-being of every taxpayer. If we do nothing to solve the problem, Pennsylvania taxpayers will pay more than $14 billion over 15 years in higher social service costs. Keystone Saves would solve that problem by providing access to a simple, effective retirement savings program managed as a public-private partnership – much like our PA 529 program.
Keystone Saves, introduced as House Bill 2156, is pending in the Pennsylvania General Assembly. I look forward to working with our legislators to get it enacted into law.
Stacy Garrity, businesswoman and retired U.S. Army Reserve Colonel is the Pennsylvania State Treasurer. As Treasurer, she is the custodian of more than $150 billion in state assets. Learn more about the Pennsylvania Treasury Department at patreasury.gov.