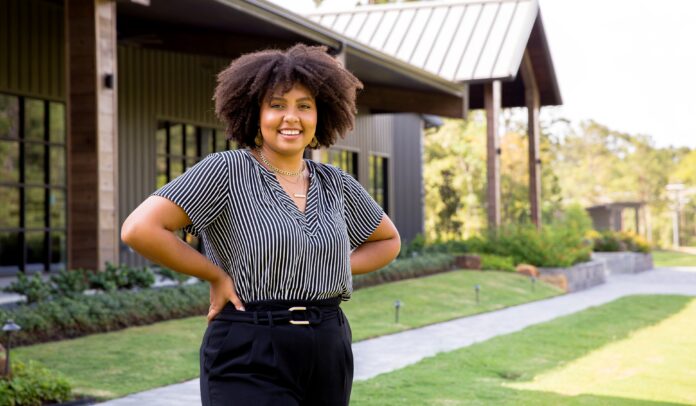 By Catherine Martinez
In April, Merissa Cole launched her wedding planning business, Riss Creations, but it's a dream that's been growing in her heart since her wedding in 2018.
"I planned our wedding, and a month after that, I planned my friend's wedding," she explains. "I was going to go to school for elementary education. But after I planned both of those weddings, it was right before school signups. So I thought, maybe I want to do this instead."

After a year of business school and assisting at another wedding planning company, Merissa decided that wedding planning was the perfect career.
"I absolutely fell in love with it. It was stressful, but the good kind of stress. It was challenging, fast-paced, and organizational."
By learning the ropes of the wedding business through hands-on experience, Merissa gained the confidence to start her own business. She also realized that her natural talents were at their best in this line of work. In addition, she enjoyed the fast-paced environment.
"I'm naturally a people person," she said, describing herself as a type 2 Enneagram personality who thrives on helping others. "I naturally want to serve people and give them everything I have. So it fits my personality really well."
After finishing school, Merissa's husband Grant landed his dream job at NASA in Houston, Texas. The couple moved to the Lone Star State last spring, allowing Merissa to establish her business in one of the country's largest and most diverse cities. Riss Creations has its first Houston wedding scheduled in November and another scheduled in Kansas.
Wedding Planning with a Purpose
It's not just making the wedding beautiful that motivates her; it's the purpose behind the day: the creation of a new family and a covenant relationship.
Merissa spent a year in foster care while growing up and was raised in difficult family circumstances. She's also the first person in her family to start or own a business. That's part of her motivation to set marriages off on the right foot. After marrying into her husband's family, she saw the positive impact that a strong marriage can have on others.
"We can manage a good party, and we can organize well," Merissa said. "But ultimately, all of this stuff is useless if you're not focused on your marriage. We want to take that stress off of you so you can prepare for the marriage. Your engagement is supposed to be an exciting and fun time to build and prepare for a lifelong marriage."
Merissa offers support to her clients to take the stress off the event and focus on the relationship. Since Riss Creations is a faith-based company, she asks couples how she can pray for them when she meets with them.
"Our passion is for planning a wedding by making thoughtful connections and focusing on purposeful details that foster divine marriages," she said.
It's that focus that sets Riss Creations apart from other wedding planning companies. Merissa has a vision that one day she will be able to partner with local churches and counselors to help couples build a solid foundation for their relationship before the big day.
How She's Building Her Business
Merissa has achieved early success by investing in the foundation of her business by networking with local wedding vendors. Riss Creations has also been involved in several style shoots, a way that wedding planners can showcase their skills.
"Style shoots are something that a lot of people in the wedding industry will do. But generally, it's the planner that organizes it. I would describe it as a mini mock wedding," she explained. "You would grab me as a planner; I would communicate and coordinate with all the vendors."
Merissa will find a location and book a photographer, caterer, rental companies, and anything needed for the big day, just like a traditional wedding. For the photoshoot, Merissa hires models, usually a real couple.
Through this process, Merissa has built trust with the vendors while opening up opportunities to recommend couples.
"Once we get the pictures or the video back from the photographer or videographer, we can submit them to publications to post," she explains. "It has also been a good creative outlet. If you want to put on a certain type of wedding but you haven't had any brides request that style, you can show how creative you are and demonstrate different themes you can do. You can try something classic or add what's missing from your portfolio."
Her style shoots have been featured on The Coordinated Bride and Elegant Wedding, both wedding blogs.
Covid-19 has changed the wedding business, allowing Merissa to be flexible, solve problems, and use her talent for serving others.
"Now I'm doing smaller weddings," she said, noting that before the pandemic, it was common to have a wedding of 250 guests, but now they are smaller.
"It's helped us become more resourceful in how we can make couples feel secure in the fact that we have a backup plan for them," she said. It's a little more work, but it's increased the value of having a planner available for last-minute changes, ensuring pandemic provisions are included in vendor contracts, and organizing live stream options for out-of-town family members and friends.
Riss Creations also offers full-service and month-of-event coordination. Merissa also provides her expertise a la carte, including rehearsal dinner planning, invitation assembly, RSVP management, set-up and tear-down, engagement party, and bridal showers.
"We are here to serve, love, and connect with you so we can be your love advocates from the day we meet to the many beautiful years to come."
With a focus on strong marriage and serving others, Merissa Cole is experiencing success as an entrepreneur with a purpose.