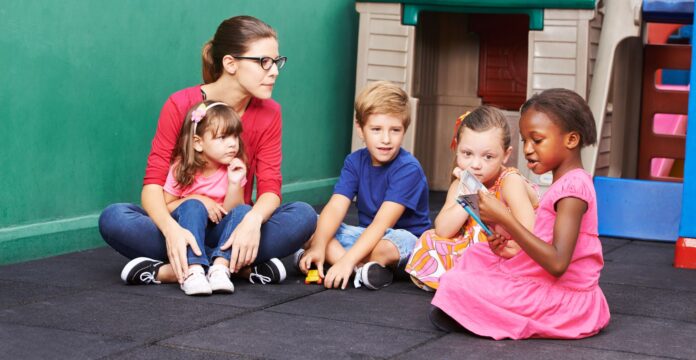 By Shannon Santschi

We see them everywhere now–Help Wanted signs adorn practically every storefront in America. Global staffing firm ManpowerGroup reports that almost 70% of businesses worldwide are facing challenges filling open positions. In response, businesses small and international are ramping up recruitment efforts by offering generous signing bonuses, flexible work hours, work-from-home opportunities, and increased pay. And although most employers in America express optimism about hiring, a scarcity of applicants to positions remains across all sectors.
One industry that plays a pivotal role in releasing the employment dam in virtually all other industries is childcare. Recent research by the U.S. Chamber of Commerce showed that parents' inability to find or afford care for their children significantly hinders women from re-entering the workforce. According to a 2019 study by the Committee for Economic Development, "53.9 percent of children from birth to 5 in the U.S. are in some type of non-parental care for at least 10 hours per week." But that was pre-Covid. A Care.com survey revealed that the childcare service industry is presently unable to keep up with the demand, as they too are experiencing worker shortages.
Brandy Peterson, Director of New City Early Learning Academy (NCELA) in the Kansas City area, has worked in early childhood education for more than twenty years. New City Church operates two centers that provide care for about 70 families. Staff intentionally cultivate relationships in an atmosphere in which "families are known, and they know they're known." Brandy offers this insight into her facility and the industry as a whole: "We offer play-based childcare service focusing on whole child development." Brandy says NCELA incorporates higher-level process-based thinking activities into daily conversation, too.

Although most businesses were still in lockdown in July of 2020, Brandy says the demand for childcare soared for those with essential worker jobs. But she also realized that even parents who work from home could not consistently juggle the demands of work and childcare; they still need childcare for their youngest ones to stay productive and meet the new homeschooling directives. But the supply of childcare workers has all but dried up now.
"Hiring has been [like] grasping at straws," Brandy explains. "I feel like 2021 has been more emotionally and physically exhausting than 2020. 2021 is hitting in a way we've not seen," she laments. A friend who operates a center in another state recently called Brandy, sobbing. In a ten-day period, the friend had four employees quit. And though her business boomed in 2019, she has now been forced to consider selling it to a corporation.
NCELA parents have swung into action, helping to recruit and share New City's ads for hire in their social network circles, but vacancies remain. Jenn Miller, Operations Director for New City Church, adds, "We get calls and emails almost daily for new enrollments. We just can't take them because we don't have the staff."
Some economists are calling this seemingly global phenomenon of worker shortages "the Great Resignation." They largely attribute the trend to a shift in working-age adults' expectations related to work location, schedule flexibility, and pay. A Bloomberg article cited research stating early educators' average pay is about $12/hour in America. But those lucky enough to find care now will tell you that costs have increased. Nationally, during the height of the shutdowns, the demand for child care on the scant population of workers drove wages up by an astonishing 87% in some situations, according to Care.com.
New City is fortunate that they've balanced wage demands with what parents can afford so far. "We are in the middle as far as costs and the care we provide is really good," Brandy reports.
Outreach Christian Education (OCE), a few miles away, sees similar trends. OCE operates several daycare centers and a modest-sized K-12 Christian school that provides an individualized curriculum for every student.
Says Principal Jessica Bullard, "We are still not fully staffed, but we are getting by with what we have. School enrollment is up, and I don't know that we've ever had a waitlist like this–both at the school and our daycare centers."
Examining reasons for the worker shortages, Bullard wonders if becoming accustomed to working from home has created greater reluctance to return to the workplace than uncertainty created by the virus. "We are not having any responses on available positions," she says. "At one point, I had eight interviews lined up; six were no call/no shows…and these were experienced, credentialed, well-qualified applicants."
Jessica says they've adjusted hourly pay and salaries for the daycare centers and the school to be more competitive and attractive to potential hires. "We are a small school with limited resources, so it's tough, but we are managing it well. Our staff is great, and our parents have been amazing."
The latest data from the Dept. of Labor shows a promising trend in employment—overall unemployment is down slightly to 5.2%, and for women, unemployment is presently at 4.8. Still, a significant portion of pre-COVID employed women has not returned to work.
As employers adjust to emerging demands during this re-opening, businesses large and small are weighing business requirements with employees' need for care for their families. When the right balance is found, America wins.