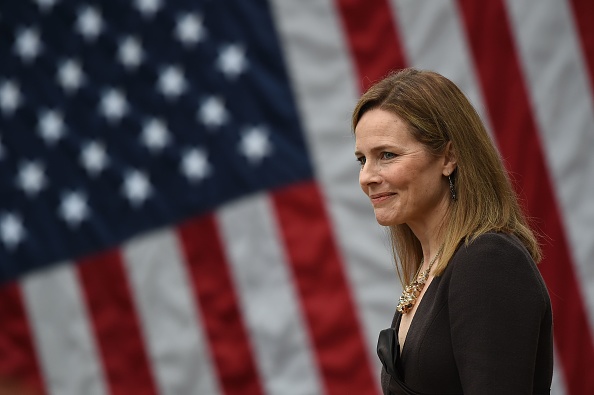 By Catherine Martinez
On Saturday, September 26, President Trump nominated Judge Amy Coney Barrett to the Supreme Court. Judge Barrett was appointed to the U.S. Court of Appeals for the Seventh Circuit in 2017 and is a faculty member at the University of Notre Dame's Law School.
Professional Accomplishments

Judge Barrett is a native of New Orleans, where she graduated from St. Mary's Dominican High School. After high school, she received a bachelor's degree from Rhodes College and a Juris Doctor from the University of Notre Dame.
Graduating from Notre Dame as a Kiley Fellow, she earned the coveted Hoynes Prize, the law school's top honor. She also served as the executive editor for the Notre Dame Law Review.
Notably, Judge Barrett clerked for Judge Laurence H. Silberman on the U.S. Court of Appeals in the D.C. Circuit (1997-98) and Associate Supreme Court Justice Antonin Scalia (1998-99).
After successful clerkships, she litigated constitutional, criminal, and commercial cases in trial and appellate courts as an associate at Miller, Cassidy, Larroca & Lewin in Washington, D.C., and she was a visiting associate professor and law fellow at the George Washington University Law School and a visiting associate professor of law at the University of Virginia.
As a member of the Notre Dame faculty, she specializes in legal topics such as federal courts, constitutional law, evidence, civil procedure, and statutory interpretation. She has gained a reputation for her judicial philosophy of originalism, which contends that the law should be interpreted in light of the original intent of the author. Her scholarly work has been published in renowned journals, such as Columbia Law Review, Virginia Law Review, and Texas Law Review. Three Notre Dame Law graduating classes have selected Judge Barrett as "Distinguished Professor of the Year."
Balancing Family Life and Career Success
While Judge Barrett is a brilliant legal mind, an accomplished professional, and an admired law professor, she takes great pride in the family that she's built.
"What greater thing can you do than raise children?" Barrett said in a 2019 interview at Notre Dame. "That's where you have your greatest impact on the world."
Judge Barrett and her husband, Jesse, are parents to seven children: Emma, Vivian, Tess, John Peter, Liam, Juliet, and Benjamin. If confirmed to the Court, she would be the first woman to serve while having school-age children.
Two of her children, Vivian and John Peter, were adopted from Haiti. When Vivian arrived in the United States, she was 14 months old, and weighed just 11 pounds, and couldn't make any sounds. Today, she's a gifted athlete, and according to the judge, "Speech hasn't been a problem." Judge Barrett's youngest son, Benjamin, has special needs and is his brothers' and sisters' "favorite sibling."
"While I am a judge, I am better known back home as a room parent, carpool driver, and birthday party planner," Judge Barrett said on Saturday.
How does Judge Barrett balance a demanding career and family life? According to her, it's a team effort, and she gives credit to her husband for helping her make it work.
"I couldn't manage this very full life without the unwavering support of my husband, Jesse," she said. "At the start of our marriage, I imagined that we would run our household as partners. As it is turned out, Jesse does far more than his share of the work."
Judge Barrett proves that it's possible to enjoy a successful career while simultaneously maintaining a rich family life.
"Our children are my greatest joy even though they deprive me of any reasonable amount of sleep," she said.
This strong family life has been an inspiration to her students. In an editorial in USA Today, they said, "She treats every person with whom she interacts with the utmost respect, kindness, and warmth — an example we saw played out in the classroom, in office hours when we came to her for counsel, and in her family home as we shared a meal."