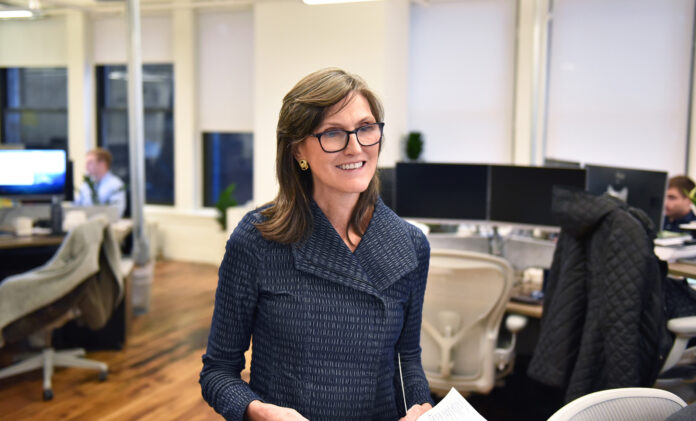 By Carrie Sheffield
Cathie Wood is an inspiring entrepreneur who built a multi-billion dollar investment fund after decades of working under legendary economists like Art Laffer. Cathie's ARK Invest includes active stock portfolios inside ETFs solely dedicated to funding tech and innovation products and services like artificial intelligence, biotechnology and blockchain.
Cathie believes women (and everyone else) possess incredible capacity to learn and innovate. She shared pearls of wisdom with Smart Women, Smart Money Magazine around our parent organization's annual State Financial Officers Foundation's conference, where she was a featured speaker.

Women report less confidence compared to men when making financial decisions, and Cathie advises women who feel uncomfortable handling money or investing to "actually start doing it."
Simply getting started will help grow your confidence, she says, in part because you'll start to see incremental results.
"Just start small," Cathie said in a SWSM interview, pointing to what she described as "averaging in": managing your expectations, diversifying your investments and staying the course, eyeing an overall average trajectory and not worrying about wild market gyrations.
"I have always found the concept of averaging in–not putting all your eggs in the same basket at once–because you're never going to make the right decision. Right?" Cathie said. "You'll never get in right at the low, and you'll never get out right at the high. But if you average, you're probably going to feel psychologically better about what you're doing."
For New Years 2023, Cathie posted a public message addressing how she believes many investors do not have enough exposure to innovation. In our interview, she noted that women are more risk averse compared to men, which makes them less likely to reap the benefits of innovation.
Cathie, 67, a Los Angeles native born to Irish immigrant parents, recommended women consider investing in funds focused on innovation.
"Now consider the source when I say that–that's all we do [at ARK]. But there are other funds out there that focus on innovation, so maybe do their homework and talk to advisors," Cathie said.
Cathie also appealed to risk-averse investors who might feel "safe" right now in "passive" investment strategies that mimic indexes like the S&P 500 or the NASDAQ.
"We would suggest that innovation is moving so quickly–the growth rates that we're seeing from artificial intelligence, robotics, energy storage, multiomics sequencing in the life sciences space and blockchain technology–the speed at which those technologies are moving forward is astonishing," Cathie said. "And what that means is it's going to disturb the traditional world order or disrupt the traditional world order. What is the traditional world order? Well, you'll find it in those passive indexes, right? And while those indexes just over time, they're not going to be able to adjust quickly enough."
In other words, Cathie thinks status quo is actually more risky than embracing change.
"If for no other reason, put five to 10% of your equity allocation into innovation based strategies in order to hedge against the disruption that these more passive strategies are going to experience over time," she advises.
Cathie notes her 5 to 10% recommendation is more for mid-career investors, and that for younger workers, "the majority of the equity allocation should be an innovation."
"If they can take that kind of volatility then sure, look at your portfolios every day and just know they'll be all over the place," she forewarns. "But long run, if our research is correct, then they're going to multiply their assets by the time they get to retirement–quite significantly."
Cathie, a mother of three children, speaks openly of her Christian faith and that she named her firm ARK after the Ark of the Covenant in the Old Testament. But she realizes not everyone feels that calling.
"A person of faith does not have to wear his or her faith on the sleeve," Cathie said. "My own case, yes, I talk about it openly. I can do that now because I've gone through life, and I've seen how profoundly it has transformed my life, and I want to share that and encourage other people to follow what Christians might call the Holy Spirit, what others might call the Force or the Universe or God or whatever. So definitely listen to that voice. Listen to that voice, but verify. Trust, but verify."
Cathie says she'll pray sometimes before important meetings, asking for Divine inspiration.
"I'll just say 'May the Holy Spirit be upon me to say the right thing at the right time in the right way, to touch people," she said. "And that can be either from a business perspective, or from a spiritual perspective. You never know how what you're saying is going to impact people and never know what's going on in their lives. And maybe what kind of answer you might be providing to a question that they have, whether it's spiritual or about investing."
Cathie says "many, many people" ask her what it was like growing up in "a man's world" of investing, when she began in the 1970s.
"I actually loved it. I loved being a woman in our industry, but I also had amazing mentors," she said. "I don't think everyone gets that lucky."
While Cathie said she herself hasn't experienced discrimination as a woman though "I hear many women say they have."
"There's a lot of superficial behavior in business," she said. "I agree with that. And you actually want to stay away from those sorts of companies that are superficial in their focus."
She offers advice to these women: "I usually say put your head down. Work really hard to make your boss look brilliant."
One way that women can protect themselves is to ensure they're getting measured by an equal yardstick.
"I'm advocating for active equity because you're only going to make it if you're good, and you have to live and die by your performance," Cathie said. "Make sure you move into a position where you're measured. And in my case, I'm measured every day. Do I think that I fail and succeed every day? No. We're very long term in our focus, but no one can take my record away–good or bad. But at least it's a record."
ARK initially far outperformed the market, though in recent years ARK's performance slowed, which Cathie brings up.
"Over the years, it has been very good, she said. "The last few years, it doesn't look good. But I have been here before, and in the long term, what really is happening right now is the rubber band is stretching, and I really believe we're going to take off once again. So don't let people take advantage of you after a few years of–and I mean years–of bad performance if you're in the long term performance game. If you define yourself by short term performance, then you have to live and die by that as well. We don't. We, thank God, are using long-term performance and long-term track record to back us up."
Overall, Cathie feels deep satisfaction–as she should in her pathway as an incredible trailblazer.
"What's wonderful about the investment world is the world is our oyster. If you're in active equity management or research, we get to learn how the world's going to work. It's amazing," she said. "That's an amazing career, and that's why I loved it. I have loved it so much, and still love it, and will always love it."