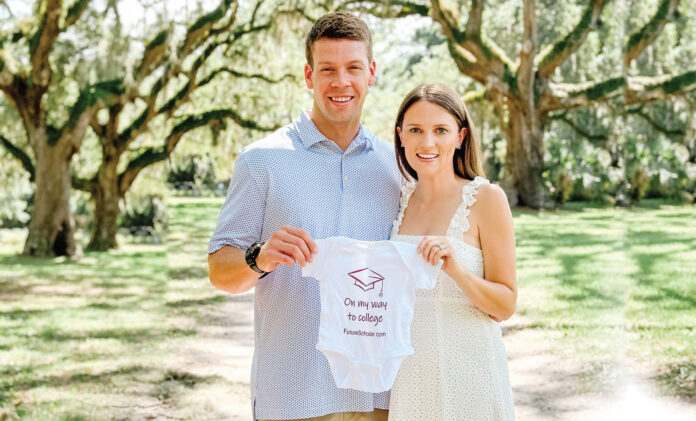 By Catherine Martinez
Future Scholar: South Carolina's 529 College Savings Plan
Treasurer Curtis Loftis and his staff have worked hard to grow Future Scholar, the state's 529 savings plan, and to make saving for education as user-friendly as possible. Treasurer Loftis quickly credited the women on his staff who have made the plan shine.

"I am very proud of the Future Scholar program," he said. "What makes me the most proud is that it's run by South Carolinians for South Carolinians. We kept control. The crew that has taken this program from $1 billion to almost $6 billion is led by women who love their children and love their community, and they want to see everybody do well. That's why the program has prospered."
The most significant endorsements that the savings plan has received are from Treasurer Loftis' staff members, many of whom have become account holders. For the twentieth anniversary of Future Scholar, staff members were encouraged to open accounts to benefit their children and grandchildren and to share experiences with the program through a series of videos.
Treasurer Loftis stated that he wants to connect to the public by using stories of real people. "In this time of artificial intelligence and everybody's relying on these algorithms and computers to get us through the world, I think people yearn to see people that might be their neighbor," he commented.
It's Never Too Early to Start Saving
One of those staff members is Kristin Buchman, a communications specialist and the video producer who filmed the series. Kristin and her husband opened a Future Scholar account before they had children, something that most people don't know is possible.
"My husband and I went through a couple of years of infertility," she explained. "But what felt so comforting about having a Future Scholar plan was that it was something we could control."
Buchman is now expecting the couple's first child in January, and they already have the benefit of beginning their saving journey.
"I see firsthand how well this program works," she said. "Year after year, I've seen the benefit. [. . .] I film and edit all of our Future Scholar testimonials. So, I've heard story after story after story about the different families who have been impacted."
A Success Story in Progress
Deputy State Treasurer Cynthia Dannels is a Future Scholar account holder for her two children, a daughter, 18, a high school senior, and a son, 16, a junior. After their daughter was born and they went home from the hospital, the new parents' first venture out of the house was to open a Future Scholar account. And as the children have grown up, the parents have kept them informed about the status of their accounts.
"We've always talked to the kids about how we're saving money for college," Dannels remarked, adding that she would show the account statement to her children each year so that they could see the progress and the growth in the plans. As the accounts grew, the Dannels made a point to help develop their kids' financial literacy, sharing why the couple chose to spend and save the money in certain ways.
"The one thing that my children don't feel right now is fear and money without planning generates fear," said Dannels. "For people who are opening these accounts, this is something in life that decreases fear. Isn't that wonderful? Anytime you can do that and say, 'I just took one small positive step that's going to help my loved one in the future,' I think that's so worthwhile."
A College Graduate and a Proud Mother
Dayle DeLong is the proud mother of Kendall, a recent University of South Carolina graduate who double-majored in mathematics and statistics. Future Scholar is one of the projects that DeLong manages as the director of the Programs Division. Shortly after the Treasurer's Office launched Future Scholar, DeLong prioritized saving for education by opening an account for her daughter.
"It's just a good feeling as a parent to be able to set your kids up for success and to know that you took all those steps early on to make their dreams a reality," she stated. By saving for college, DeLong gave Kendall the gift of being able to concentrate on her studies and not worry about how she was going to pay for school.
DeLong has helped guide Future Scholar to where it is today and has encouraged others to do what she's already been able to see her own daughter accomplish: graduate from college debt free.
The Best Time to Start Is Now
All three women want people to know that the best time to start saving for college is now, whether children are young or in high school. Future Scholar is flexible, which means that it can be used for K–12 education, a vocational school, or a traditional university. And if a child gets a scholarship, the account can be used for room and board.
"We have a great population of grandparents that open accounts for their grandkids," explained DeLong. "It doesn't have to be mom and dad who open an account. Grandparents can do it as well. For those grandparents who are maybe looking at estate planning and other types of ways to forward gift funds to their grandchildren, Future Scholar provides a great opportunity for that as well."
"Women are driving the decision to save for college," Dannels said. "I just want to empower women out there that saving for college is similar to saving for retirement. It's not about putting big lump sum payments into an account." She added that using automatic payments and contributing small amounts at a time can produce significant results.
"Every dollar you save now is one less you need to borrow," DeLong pointed out. "So, start."
For more information regarding South Carolina's Future Scholar 529 College Savings Plan visit https://futurescholar.com.