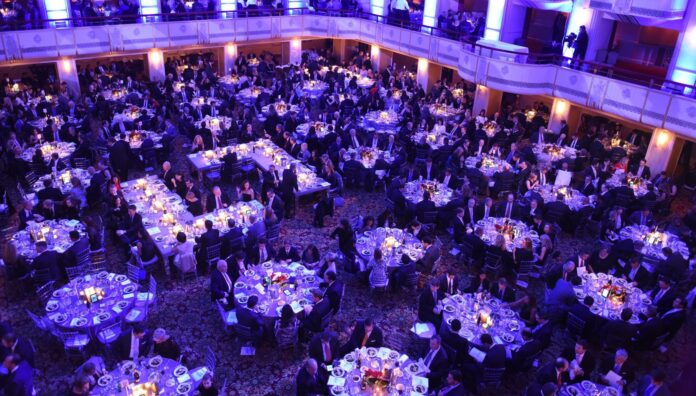 By Carrie Sheffield
Smart Women Smart Money magazine is proud to sponsor the Independent Women's Forum's (IWF) 30th-anniversary celebration and marquee Annual Awards Gala. This year's event is taking place on October 12, 2022, at the National Building Museum in Washington, D.C.
The 2022 Annual Awards Gala honorees include Kimberley Strassel, editorial board member at The Wall Street Journal, who will receive IWF's Barbara K. Olson Woman of Valor Award, and Diana Davis Spencer, executive chairwoman of the Diana Davis Spencer Foundation, who will receive the inaugural Lifetime Achievement Award.

The Woman of Valor Award is named in memory of Barbara K. Olson, a brilliant attorney and original co-founder of IWF. Barbara was a passenger on American Airlines Flight 77 en route to a taping of Bill Maher's television show Politically Incorrect when it was flown into the Pentagon in the September 11, 2001 attacks. IWF is glad to keep the flame of Barbara's legacy alive.
Diana Davis Spencer and her daughter, Abby Moffat, aren't your typical Washingtonians. It's no wonder that people feel drawn to them. Their joie de vivre, passion to make the world a better place, and warm interest in others always come through—whether it's the way they engage one-on-one in a crowded ballroom or in their work at the Diana Davis Spencer Foundation. Diana serves as executive chairman, and Abby, a serial entrepreneur and business leader, is CEO and president. Diana is also a journalist who has published nationally and is a member of the National League for American Pen Women. Friends describe her as "brilliant" but "down to earth."
"As Independent Women's Forum celebrates its 30th anniversary, we are thrilled to honor two incredibly influential women," said Amber Schwartz, executive vice president of IWF. "Kimberley Strassel fearlessly works to expose corruption and hold the political class accountable through her Potomac Watch column. She's an inspiration to women everywhere, always conducting herself with professionalism and cunning wit."
Amber continued, "Diana Davis Spencer has spent her entire life using her talent and resources to improve not just her local community but the entire country. Her philanthropic giving has been instrumental in shaping public policy and enabling more people to pursue their own visions of happiness. She is a true hero, and IWF looks forward to celebrating her amazing achievements."
An additional 2022 Annual Award Gala honoree is Tulsi Gabbard, former U.S. Representative (D-HI) and original co-sponsor of the Protect Women's Sports Act, who will receive IWF's Resilience Award. The Resilience Award recognizes an individual who exhibits bravery, courage, and inner strength and helps create stronger, more vibrant communities by encouraging more respectful dialogue and civic engagement. Past honorees include Asra Nomani, journalist and Virginia parent advocate, and Kristy Swanson, the original Buffy in Buffy the Vampire Slayer.
"IWF could not think of a better woman to receive our 2022 Resilience Award than Tulsi Gabbard," Amber said. "Since her time in Congress, she has stood up for women and pushed back against those who seek to erase women as a distinct legal category. We are grateful for her leadership in protecting the interests of women."
In June, at IWF's Our Bodies, Our Sports rally, Gabbard said, "We must protect the legacy of Title IX, which leveled the playing field for female athletes and created life-changing opportunities for countless women based on the need for fairness and a recognition that male and female athletes are biologically different."
Last but not least, Vivek Ramaswamy, co-founder and executive chairman of Strive Asset Management, will receive IWF's 2022 Gentleman of Distinction Award. The Gentleman of Distinction Awardcelebrates a gentleman that is committed to protecting and defending our American ideals and works to create a stronger and healthier society. He also exemplifies a commitment to respect and civil discourse, showing generosity and kindness to critics while remaining steadfast in his beliefs. He is an advocate for limited government, economic liberty, and personal freedom and promotes equal opportunities for women and men. Past award recipients include Sen. Tim Scott, Rep. Dan Crenshaw, Larry Kudlow, Mike Rowe, and Steve Forbes.
"Vivek Ramaswamy has played a pivotal role in exposing how much of corporate America has been captured by Leftist ideology," Amber said. "He has not only created greater awareness of wokeism, but he has actually provided a pathway forward so we can do something about it. We are thrilled to honor him."
"The most important challenge of our time may be to restore mutual respect amongst coequal citizens, even those who disagree with us, without sacrificing our fundamental principles," Vivek said in a press statement. "I'm honored to receive this award from an organization who embodies this goal."
Since its founding in 1992, IWF has emerged as the nation's top women's organization dedicated to developing and advancing policies that aren't just well intended but actually enhance people's freedom, choices, and opportunities. This year's event marks IWF's 17th Annual Awards Gala.