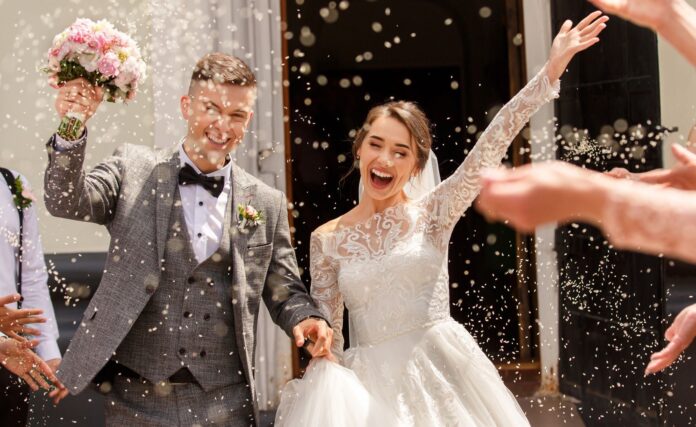 By Carrie Sheffield
About 40% of engagements happen between Thanksgiving and Valentine's Day, according to WeddingWire. We're approaching engagement season, and Smart Women Smart Money has you covered for your next steps. 
I interviewed Sara Lyn Keller Jensen, owner and founder of The Avenues Wedding and Event Venue in Rexburg, Idaho. This wonder woman, my lovely cousin and former Russian professor, has designed weddings for nearly 15 years, all while raising eight children. Sara grew up in a thrifty family of 10 kids, so saving money is in her DNA. She's known for pulling off weddings "for a fraction of the cost of most weddings." Our lightly edited conversation is below.

What are the first steps to save money a bride should take when planning her big day?
"I always advise brides to decide what is the most important aspect of the wedding and spend money on that thing and then try to save money on the parts that aren't as important. If you love flowers, then spend your money on that. If you are into fashion, then make sure to splurge on your dress, etc. Once you've established what matters most to you, then the rest of your wedding can be done on more of a budget.
Rent, don't buy, you'll only use it once. This goes for a dress, decor, etc. Order flowers from Trader Joe's (they often beat the price of my wholesale floral shop) or Sam's Club (they have free shipping to your front door). Shop your vendors. Vendor pricing can be widely disparate. Make sure to price out multiple vendors in any given wedding expense."
How much is the bare minimum you'd recommend spending for a wedding? What is considered a small, medium, and large wedding in terms of guest size?
"10 thousand dollars is probably the minimum you can plan to spend on a wedding in most states.Wedding parties can be as small as ten guests. A medium-sized wedding would be between 35-60, and a large wedding is anything over 100 guests."
Sarah cites the The Knot 2021 Real Weddings Study: "On average, couples spent $28,000 on their ceremony/reception for an all in total wedding cost of $34,000… when looking at those whose weddings had less than 50 guests, the average day-of wedding cost was roughly $15,000 whereas those with more than 100 guests averaged $38,000. Cost also greatly varies by region, where the South averages $26,000… the Northeast average upwards of $36,000 for day-of cost."
What are some creative venues for weddings that might be more affordable but less commonly used?
"If you're getting married during summer months, a garden wedding is always charming, and if you know someone with a beautiful yard, it can be free. Other alternative options for venues include a barn, a warehouse, or even a plane hangar. A recent trend for weddings is to find a beautiful Airbnb and rent it out for your wedding. Then you've got the whole house and yard to work with for a fraction of the cost of a venue rental."
How do you best select a food vendor? Any advice on how to save money on food without scrimping on quality?
"The most cost-effective way to cater a wedding is to think outside the box. Universities and even grocery stores often offer high-quality food for a lower price tag than you would find at a restaurant. Alternatively, if you're set on catering with a certain restaurant, consider only getting the main dish from them and supplement other parts of the meal with more affordable options.
A popular choice for catering large events is a charcuterie board which consists of both sweet and savory finger foods, including cured meats, cheeses, fresh and dried fruits, nuts, chocolate, and just about anything else you can think of. Serving a charcuterie style meal can be very cost-effective since there is little waste as people graze from a large community table and generally only take what they know they'll eat."
What are some common mistakes you see brides make when planning?
"One thing I see over and over is difficulty in communicating the allocation of costs and responsibilities between the brides' and grooms' families. There are traditions for which side of the family pays for/takes charge of each portion of the wedding. Whether you choose to stick with these traditions or make your own rules, it is very critical to communicate clearly between families so that there is no misunderstanding on these issues that can cause unnecessary contention on what should be the happiest day of your life."
Are there any apps or software that you'd recommend for planning and expense tracking?
"The Knot and Wedding wire both have apps. These apps will assist you in your search of vendors who pay to have a profile on their site. But I'm very impressed with the Zola app since they don't currently charge their vendors to have a profile with them, which means that you will possibly get a larger variety in vendor options, including those who may not be able to afford the cost of an expensive profile on a larger platform. Wedding apps that help with budgeting and expense tracking are 'wedding planner' and 'Bride book.'"