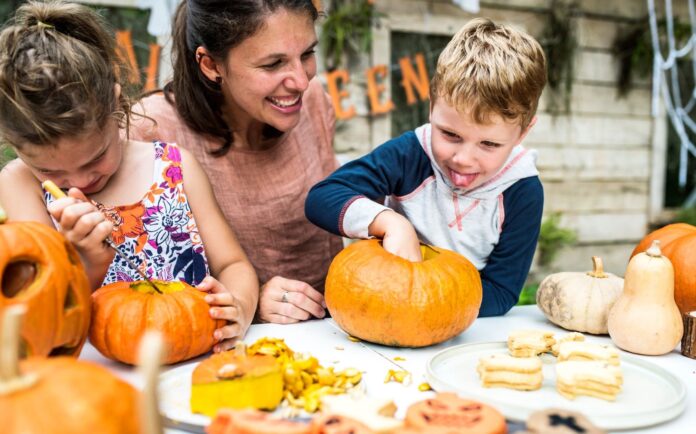 By Naomi Atwater
There is nothing quite like the temperature cooling down, the leaves brightening to red and orange, and the bucket list of fall activities piling up! Planning fun around a tight budget can look daunting, especially if you live in the city without as much space to enjoy the outdoors. Fortunately, the city still provides so many options!
Visit a Pumpkin Patch
You can visit many pumpkin patches for free and just enjoy the experience of being amid a sea of fall-colored vegetables with great photo-ops! If you choose to purchase a pumpkin, you can bring them home and have a pumpkin-carving (or pumpkin-painting) party and buff up your fall decor! You also could pick from a variety of tasty recipes or crafts to make with the family or friends from such a versatile fruit.

Get some pumpkin inspiration: https://www.thepennyhoarder.com/save-money/21-fun-ways-enjoy-pumpkin-halloween.
Plan an Elaborate DIY Halloween
Even if you do not have kids or typically have big plans for Halloween night, if you live in the city, good chances are you get at least a few little trick-or-treaters visiting your doorstep at the end of October. Maybe this is the year you go all out and perfect your DIY decor or snacks, or costumes for an inexpensive holiday!
Vary your DIY project to-do list:
Decorations: https://www.womansday.com/home/decorating/g1279/easy-halloween-decorations/
Treats: https://www.countryliving.com/food-drinks/g1194/halloween-treats/
Costumes: https://www.rd.com/list/cheap-halloween-costumes-adults.
Get Lost in a Corn Mazes
Often fall-themed parks will have a free (or low) entrance fee with the option to purchase food or additional activities, like corn mazes, for higher fees. If you are trying to spend a controlled amount of money, research your area's fall-themed farms, and you will typically find all price and ticket information online!
Collect Leaves for DIY Crafts
If you live in an area where the trees change color for fall, curating a dried leaf collection will be a creative activity! You will need to press them and wait for them to dry, but afterward, you will have the start of your own DIY fall decoration materials!
Learn how to dry leaves: https://forestryandland.gov.scot/blog/pressing-autumn-leaves.
Walk Through a Nature Trail or Park
You might need to get slightly out of the city for this one, although many cities do prioritize providing parks with various activities! Take a little trip to a nearby park and spend a day going for a little hike through the beautiful leaves. You can always bring food with you and plan a specific destination for a picnic or grab takeout from a local restaurant to also enjoy under a big autumn tree. Enjoy the fall leaves and fresh air, and spend $0 on entrance fees.
Self-Guided History Tour of the City
This one is easier than it sounds and can be done in different ways more than once! Even if you have lived in your city awhile, there are likely historical aspects of it you have not completely explored! Do a little research on some things like the first settlers in your area, Native American history, or any historical events or people groups that affected your area. Start collecting a list of landmarks or important features of your city and organize them by timeline, then lead your crew through a tour of landmarks and events.
Host a Baking Party
Whether or not baking is your forte, this can be a great group activity that produces yummy fall treats in the end! Maybe plan a few recipes and assign each of your guests to bring along 1-2 ingredients to put into the delicious treats. Or ask each guest to bring their favorite traditional fall recipe with a couple of unique ingredients and collaborate together for an afternoon of baking well-loved treats.
Invite Your Friends to Your Backyard Drive-In Movie Theater or Your Indoor Movie Marathon
If you have your own backyard, you can host your own drive-in movie by using a projector and a blank sheet. Whip up some popcorn, set up blankets and lawn chairs, and enjoy your evening watching your favorite film, drive-in theater style.
If not, bring your clan together for a fall marathon of your favorite series. You may be starting a new tradition! Don't forget the popcorn and cozy blankets for this night, too!
Need more ideas? Find more by CLICKING HERE.