"I was reticent to talk about myself, but in doing so, I realized I was not alone," she says. "A Lot of people go through hard times, and I made great new connections."
By Heather Pluard
Most millionaires don't start their adult lives as broke and homeless, but that's the position Dini Harris found herself in after an unexpected divorce when she was 22-years-old. With no degree, no career, no assets, and two small children in tow, she worked hard to seize control of her future. Today, she's a founding partner of Harris Financial Advisors, a highly successful firm that has helped thousands of others pursue financial freedom through its programs and services.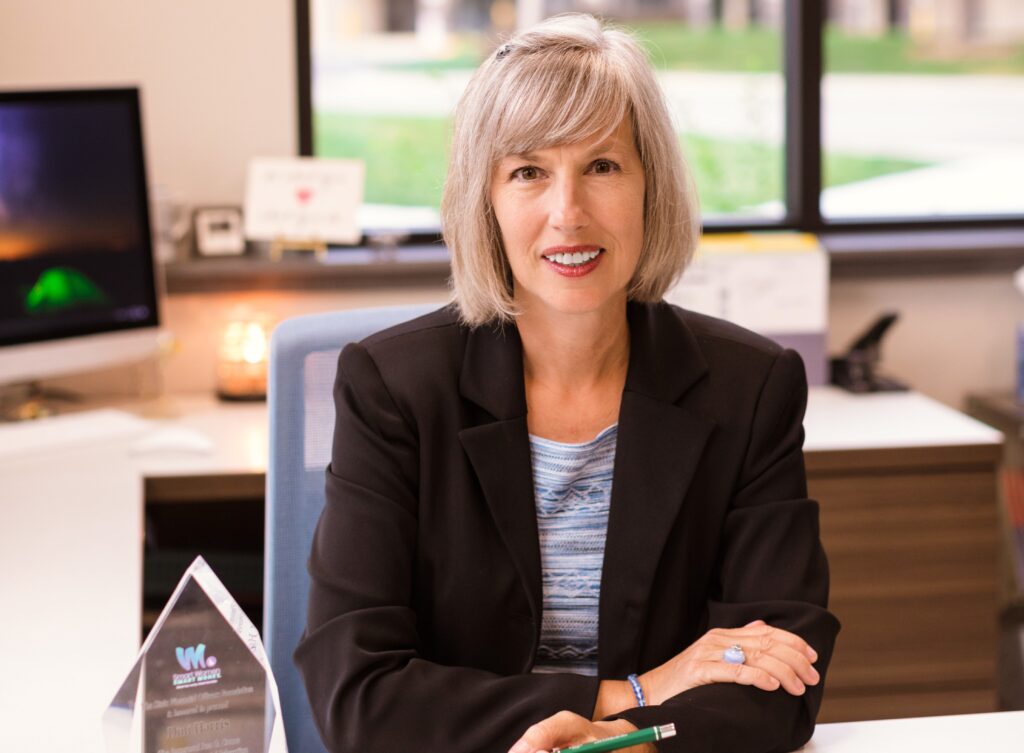 "Whether I'm working with high net-worth clients or millennials just getting started, my first piece of advice is to know your entire financial picture and be involved on some level," Dini says. "I had no vision of money when I was 22. No one taught me any necessary skills like budgeting, how to raise my credit score or the ways interest rates can work for and against me. My second piece of advice is to prepare for the unknown. Life will always throw something unexpected at you, but there is security in being financially ready." 

Dini didn't have that type of security when she became a single mom to her sons Josh, who was two at the time, and Jordan, who was only four weeks old. She says her biggest mistake was not seeking help. "I was embarrassed about my situation and didn't want to go back and live with my parents, so we bounced around places to stay for a while," she remembers. "But I didn't want to continue to live like that. I took on two full-time jobs, working on the line at a manufacturing plant during the day and tending bar five nights a week. Thankfully, I had good friends who babysat for me so that I could straighten everything out."
With a fierce determination to change her family's circumstances, Dini worked tremendously hard. Known for being dependable and responsible, she was quickly promoted from the assembly line to the office, where she did bookkeeping and assisted the sales force. Within a few years, Dini had her own sales territory and was able to quit her night-job and buy her first home. "I was setting goals and meeting them," Dini says. "I'm an all-or-nothing type of person who doesn't settle for mediocre. I always like to go for the next level."
Already a bonafide success, Smart Women Smart Money invited Dini to speak at the inaugural conference in 2000. Her life story inspired many attendees to change their future, and telling it at the conference changed Dini's future as well. "I was reticent to talk about myself, but in doing so, I realized I was not alone," she says. "A lot of people go through hard times, and I made great new connections."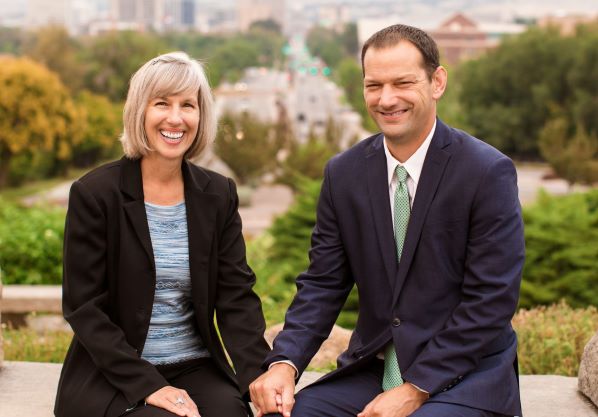 Before the conference ended, someone handed Dini a business card and suggested she start a career in the financial services industry. "It had never even crossed my mind," Dini says. "Things were comfortable at home. Life was no longer such a struggle. But I had to travel a lot, and I wanted to be home more for my kids. I also wanted a more meaningful career where I could help others. After a year of considering a career change, I decided it was worth the risk and called the number on the card."
Even though she knew nothing about the financial industry and had zero background in it, Dini nailed the interview and was able to negotiate for what she wanted. She joined the company's Fast Track program and had 60 days to study and pass the Series 7 test to become a financial professional. "I studied night and day," she says. "If I failed, I had to leave the company, so I poured everything into that test. The only time I questioned what I'd done is after I'd taken the test and was waiting for the results, which took about ten seconds to calculate. I had a jolt of fear, but I passed!"
Just as Dini was starting to build her book of business, 9/11 happened. The tech bubble burst and the stock market dived. It was a strange time in the financial industry, but, as luck would have it, Dini met her future husband and business partner, Phil, who started working with her at about the same time. "Phil and I work exceptionally well together," Dini says. "We are like 1+1=3. Two years later, we got engaged and decided to start our own company, Harris Financial Advisors. We left the corporate structure in February of 2002 and opened our investment shop the following month. We had our wedding in June of the same year."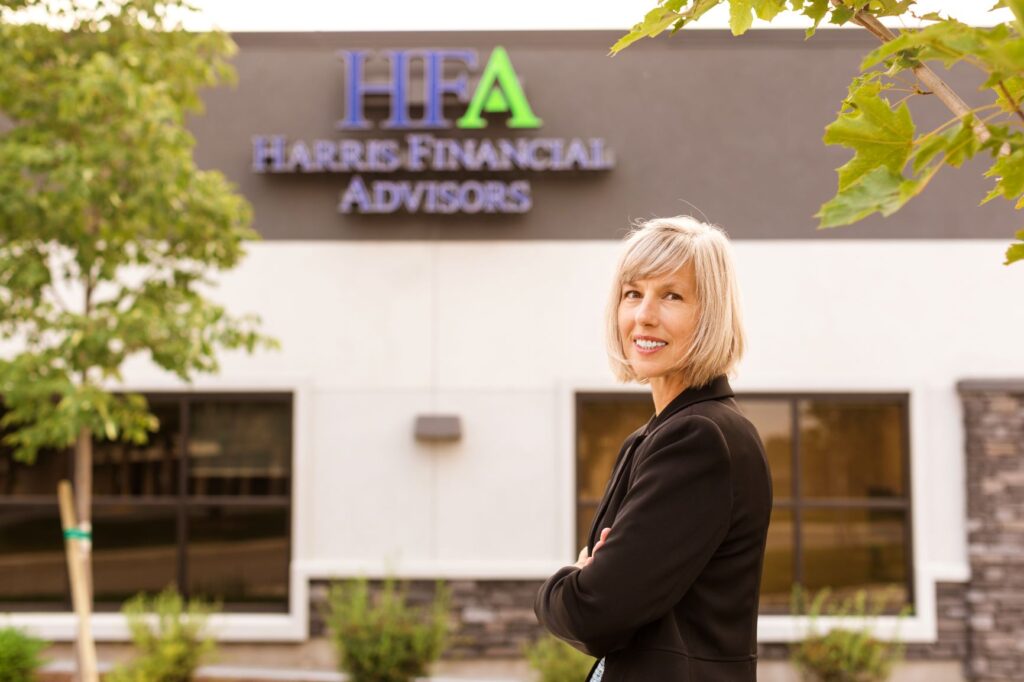 Harris Financial Advisors is built on the premise of helping everyone who walks through its doors, not just million-dollar clients. "A lot of corporations will turn clients away who don't meet their minimums," says Dini. "But it felt like turning myself away. I will never think I'm too big to work with someone who is just getting started. You would be surprised by the number of young people who come into the office wanting guidance. Many of them grew up watching their parents suffer loss in the recession of 2008, and they want to avoid that for their future. We find ways to help. It doesn't take much to amass wealth, especially when you start early."
Reaching out to area youth and teaching them basic money management skills is also important to Dini and Phil. Harris Financial Advisors offers complimentary* financial literacy classes to homeschool groups and local businesses who want to provide the program to their employees.
"I'm passionate about teaching people fundamental money skills," Dini says. "Everyone should have a grasp on budgeting techniques, the proper allocation of resources, and how to use credit. If people are willing to do the work, there are always opportunities to learn. First, you have to want to change. There are several great podcasts and tools on the internet out there to help you get started."
Typically, Dini spends several hours piecing together a client's financial picture. Topics include cash-flow budgeting for pre & post-retirement, risk-assessment and ensuring coverage for unexpected events, minimizing debt levels, and maximizing credit scores.
"Preparing for the unknown can help people ride comfortably through difficult times," Dini says. "Having your financial picture ahead of time allows you to focus on other important things, like your health or your relationships. No matter what your relationship status is, you should know what your financial situation is and what your goals are. I recommend revisiting and revising your plan on an annual basis."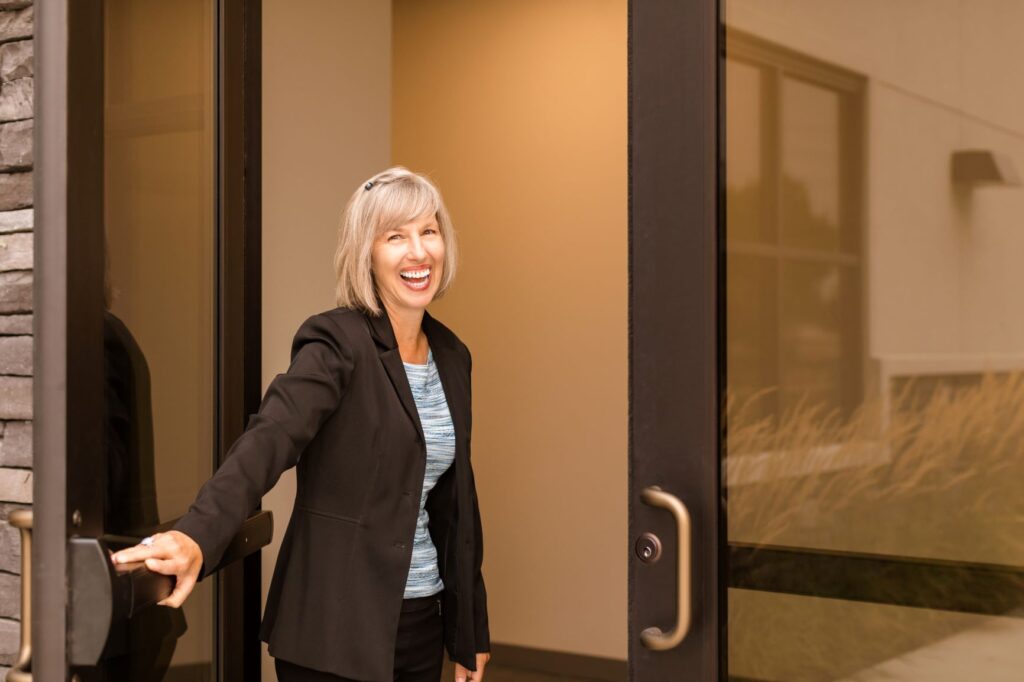 It's advice Dini follows herself. She and Phil, who have been married and working together for 18 years now, still set goals and work off of an annual plan. "We believe knowing where you were last year, where you are now, and where you want to be next year is the best way to stay on track," Dini says. "We want to continue growing Harris Financial Advisors and have the freedom to retire when we want to."
When they aren't working, Dini and Phil love to travel and enjoy the great outdoors – especially the mountains. They like hiking, camping, and fishing together. Back at home, Dini loves to study philosophy and practice yoga. "It helps me stay calm, organized, and balanced," she says. "Success is finding peace in the moment and happiness in growth." Dini is also happy to see her sons master the basics of money management and find their financial independence. Josh is now 29, and Jordan is 27. Both men are driven to succeed and have already purchased their first homes.
"It's really on you to educate yourself and teach your children what they need to know," Dini says. "Just remember, fear is a liar. There is always hope. If you're having a hard time, ask for help. Seek out people who seem successful, take them out for coffee, and ask them to share advice. Surround yourself with good people, and get involved with groups and organizations that align with your goals. Ultimately, you are in charge of your future. Financial freedom could be closer than you think."
*Classes are complimentary; commissions, fees or sales charges may be assessed if products or services are purchased.
*Securities and advisory services offered through KMS Financial Services, Inc. Member FINRA/SIPC and an SEC Registered Investment Advisor. Harris Financial Advisors and KMS are separate and unaffiliated.