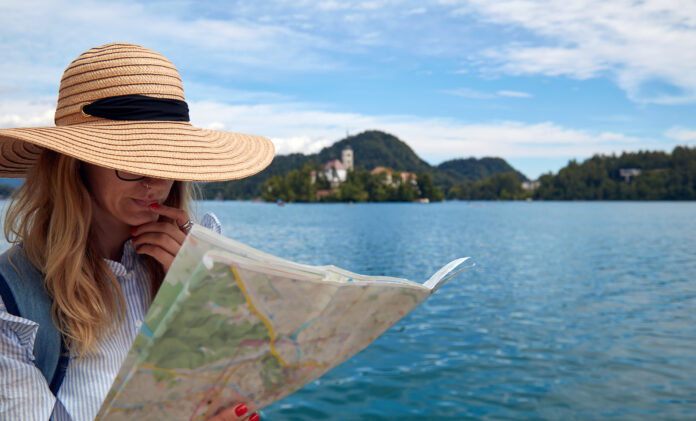 By Naomi Atwater
"Are you going to be safe?"
That was the first question every time I told someone I was heading to Europe this past summer for a solo work trip. It's not like there was anything inherently dangerous about where I was going – but I was very aware that traveling alone as a single girl posed its own set of challenges to be aware of.

Here's how I planned my trip, stayed safe, and prepared for traveling abroad by myself.
1. Bring backups.
Bring at least two portable chargers for your phone and keep them in your carry-on. (And remember to charge them before you go!) Any other essentials you need to make it to your destination, such as your tickets and passport, take photos on your phone and make photocopies of and keep spares in your carryon. You never know what you may drop, lose, or get stolen!
2. Look at maps of everything.
Whenever you have a moment sitting on the plane or a taxi, pull out the map of wherever you are headed next and get familiar with the route. You can often find maps of major airports, so when you have a short layover, you know precisely which shuttle to take to make it to your next flight. It's also helpful to look up maps of your final destinations to make it to your hotel once you arrive. I recommend downloading the Google Maps app and downloading offline maps of the area you'll be in (learn how here). That way, if you lose service or do not have International Roaming data, you can continue using your maps offline. It'll help eliminate a lot of stress and confusion when you step off the plane!
3. Keep all my essential belongings in a crossbody bag.
Pickpocketing is a massive issue in some of the cities I was going to be visiting, so it would be worth it to research where you are headed and invest in a bag that can cross in front of you at all times. Brixley Bags has a lot of trendy and functional options. You may also look into getting a bag with RFID protection from somewhere like Travelon so that no one can access your information without permission. It will make it much harder for someone to snag your wallet or phone or gather your information without you knowing!
4. Share your itinerary. 
Tell people, both at home and at your destination, generally where you will be. You will be much easier to find if you get lost or something happens to you, and people will notice when you are not where you say you will be. WhatsApp allows you to text and call internationally using Wi-Fi and share your live location with the contacts you select. It also comes in handy when you are meeting up with someone in a busy location!
5. Reserve a backup credit card somewhere else.
Along with keeping all essential items in a crossbody bag, put a separate credit card in a different bag in the event that your wallet is stolen, and you need to have a way to pay for things.
6. Bring the right chargers/converters. 
In Europe, the outlets and voltage are different than in the United States, so make sure you learn what converters you will need to safely use your electronics. Bring multiple in case one breaks!
7. Buy an international roaming plan.
If your smartphone uses an ESIM, you can buy an international plan from Holafly, which is convenient, affordable, and gives unlimited data and calls for however many days you need. You can also purchase a physical sim card for international roaming if you have an older iPhone or a different smartphone. Some airports also have them available for purchase.
8. Walk well-traveled streets and take busier public transportation.
While it may seem obvious wherever you are, you'll want to walk well-lit, well-traveled roads and take busier public transportation. If you have Google Maps, it will show you how busy the subway or public transportation is. You do not want to get into an empty subway car with only one or two other people. Whenever possible, take the route with the most people, as crime can be spotted much easier.
Enjoy your trip abroad and let us know if there is anything else you do when you travel abroad alone!