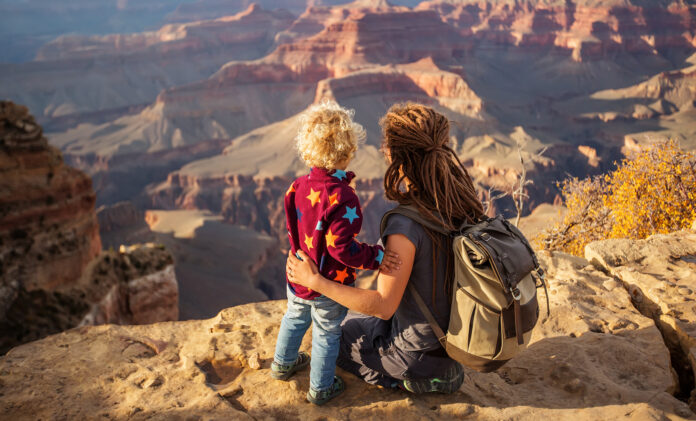 By Naomi Atwater
This fall, learn some traveling secrets from travel agent Kaitlyn Downie, who loves to help families and couples plan their dream vacations with less stress!
Where are you going?
Traveling in the fall is magical because of the moderate temperatures, beautiful colors, and tranquil destinations. Kaitlyn recommends visiting places where temperatures will be more moderate than at other times of the year. This fall, the top three ideal locations are the Grand Canyon in Arizona, San Francisco, California, or Hartford, Connecticut. 

However, there are some destinations you will want to avoid during the fall months because hurricane season will quickly transform your vacation from relaxing to disastrous. Reconsider your travel plans to places like Mexico or other hurricane-prone destinations.
How are you getting there?
If you are flying to your destination, Kaitlyn recommends booking your flight as soon as possible. It's a misconception to wait around for an airfare sale to come around to book something cheaper. Mainly, non-mainstream, budget airlines will run sales, but you'll possibly want to avoid these because there's a much higher likelihood for your travel plans to be canceled, delayed, or rearranged when you book a flight through them. Book a budget airline only if you are a seasoned traveler comfortable with going with the flow and responding when things get mixed up! 
One exception this year is Southwest Airlines. They run many promotional sales and discounts because last holiday season, they ran into technical difficulties that caused a massive amount of flight cancellations and delays. Although generally a reliable airline, the company is rebuilding customer trust and has made flying Southwest very affordable!
Otherwise, you can search for affordable flights through websites like Justfly, Kayak, or Skyscanner. Kaitlyn also recommends downloading the Flighty app to track your flights and watch for disruptions or delays. Always check what baggage is included with your flight and the oversized baggage fees. Some flights will appear much cheaper but cost much more for luggage. Most airlines have slightly cheaper prices if you book on a Wednesday and if your flight leaves early in the morning, so make sure you check it out then! 
Where are you staying?
Working with a travel agent is the best way to find an affordable stay at your destination. They know the resources to find a comfortable and budget-friendly stay, and they will also help you ensure you stay in a safe neighborhood and stay close to the activities you want to explore. The last thing you want when you visit a new place is to end up somewhere you did not expect! If you're set on booking on your own, check out Expedia to search for stays in your destination. Make sure you read many reviews and search multiple website sources on where you stay!
Airbnb is also a great option to book a stay, especially if you're looking for more independence during your stay (such as having your own kitchen to cook in) or if you have very specific amenities you are looking for. However, you'll also want to read reviews on the place and on the host/hostess before you book. Finding a host/hostess with an Airbnb mark as a "Superhost" is a great option! If you are a single woman traveling alone, you will likely feel much more comfortable and safe in a hotel.
Things I will NOT spend money on!
Kaitlyn says she will not spend money on cheaper but more unknown airlines or booking services because there's a much higher chance of cancelation or delays, making your trip much more inconvenient and not saving you money in the long run.
Kaitlyn also says she will not spend money on something without extensively researching. When booking activities, she recommends looking at the third-party service (Viater, GetYourGuide, TripAdvisor) and finding information and reviews on the specific company running the activity.
Things I will ALWAYS spend money on!
If there are activities you have always wanted to see, experience, or try, do them. This might be the only time you visit this location or visit in a while. If you're a foodie, Kaitlyn also says you should splurge on food you want to try. You'll most likely be spending money on food anyway while on your trip, so why not spend slightly more and try the things you've been wanting?
Bonus Tip: Travel Agents like Kaitlyn are FREE!
Travel Agents like Kaitlyn are free and help you every step of the way. Send her a message on social media (Facebook Profile, Instagram Profile), and she will set you up with recommendations, a quote for how much a trip you are looking for would cost, and book your hotels and activities. She also sends you a packing list and is available during your entire trip for questions or help! 
(As a bonus for honeymoon trips, Kaitlyn will send you a complimentary detailed itinerary catered to you! This concierge-level planning is also available for other trips for a small fee.)
Follow her social media and send her a message today to start planning! (Facebook Profile, Instagram Profile)